Headteacher's News
16 December 2020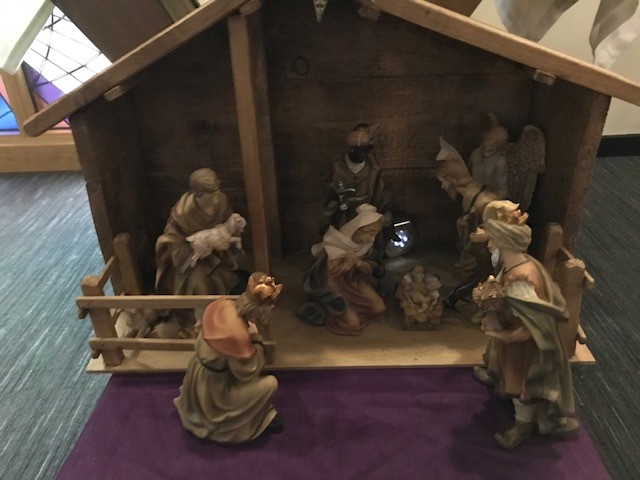 December 2020
Dear Parents and Carers
As we approach the Christmas holiday, I'd like to thank you all for the understanding and support you have shown after what has been a testing term for us all. Well done also to the pupils who have adapted very well to the change in routines and shown great resilience. All staff too have worked tirelessly and with great flexibility to ensure that your child receives the highest standard of education.
We hope that for us all the New Year brings some relief from the changes and adaptations we've had to make.
Christmas Closure
School closes for the Christmas holidays on Friday 18 December at 12:30pm.
Whilst we cannot hold our traditional Advent service in St Mary's parish church, we will still celebrate this most special time of year in school. All pupils will be dismissed from school at 12:30pm, and the regular school buses have also been arranged to collect children from this time.
All pupils will return to school on Monday 4 January. This is a normal school day so the regular timetable will be followed.
Potential Covid-19 Cases over Christmas
It is possible that some pupils may test positive for Covid-19 once the Christmas holidays have begun. If this were to happen, then school would still need to follow the government rules, and inform close contacts.
If your child does test positive at any time over the holidays, please inform school via our Covid-19 email address - c19@lsmchs.com so we can update our records.
Once we have the details, we will make a decision as to whether any pupils would need to self-isolate for 10 days. With luck, this won't be the case, but if your child is identified as a close contact, then a member of staff will contact you over the phone.
Mass Testing in Schools in the New Year
You may have seen in the news recently the government announcement that pupils and staff may be able to have access to rapid testing in the New Year. Unfortunately, the details of this are, at the time of writing, still unclear but once we know more I will write to parents in January with further details.
Year 11 Mock Exams
Unfortunately, some pupils have had to self-isolate during the current mock exams. Therefore, arrangements are in place for a second round of exams for any pupil who has missed due to Covid-related issues. This new timetable has been published to Year 11 pupils and parents through ClassCharts. These exams will begin on Monday 4 January. Sadly, after these, we will not be able to run any further mock exams in January. Therefore, if any pupil misses their mock exam again then staff will be asked to formulate teacher assessed grades.
School Website
Over the Christmas holidays, the school website will be updated and a new format used. The web address remains the same and all the usual information will still be available, but there may be some delay in accessing the site as the handover is completed, so please do bear with us.
School App
Alongside the website changes, we are also moving the school app from SZApp to Schudio App. Using your preferred app store, search for 'Schudio School App'. We can be found in the search bar as St Mary's Catholic High School.
School Uniform Supplier
Delta Wool Shop have recently announced that they will no longer be stocking school uniform. We have now switched suppliers to Impressions Uniform. Products will be available online from Tuesday 22 December initially for jumpers, but then stock will increase. There will be free delivery for all Leyland schools, until their shop in Leyland opens in the New Year. We were very impressed with the level of service they offer parents and hope that you will agree.
Their website is www.impressionsuniform.co.uk
Road Safety
St Mary's has seen an increase in the volume of traffic outside school from parents and carers both in the morning and afternoon. Can I urge parents to be respectful of our neighbours and mindful of the pupils. We have received a number of calls from concerned residents regarding congestion and safety worries. Please observe the yellow markings and traffic cones and don't drop off your children on or opposite these points. If you do use the bus siding to drop off, please do not linger as this area is used by the school busses and other parents. Ideally, your child could be dropped off away from Royal Avenue and asked to walk the short distance to school.
Finally
This Christmas period may well be very different from ones we have enjoyed in the past, but I hope that it does bring you some rest and joy.
On behalf of all staff and governors, I would like to wish you all a Merry Christmas and Happy New Year!