Headteacher's News
21 October 2021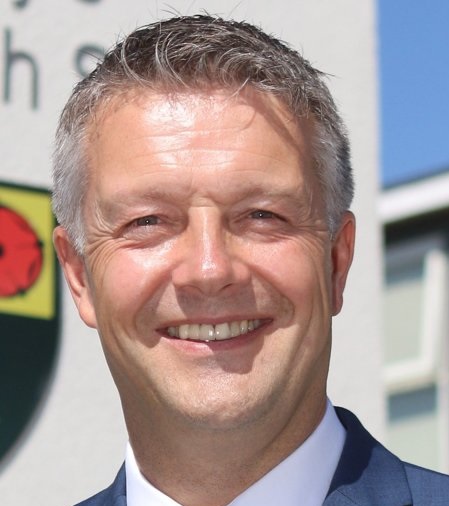 Dear Parents and Carers
This half-term has, thankfully, seen us return to something like normal for both the pupils and staff alike. It has been a joy to welcome our new Year 7 cohort who have settled extremely well into secondary school life, and the other year groups have also made a very focussed start to the term.
COVID-19
Whilst we have been hit with some positive Covid-19 cases, we are not currently experiencing large numbers like some other local schools, and we hope that this continues to be the case. As things stand, we have no plans to change our approach to managing the ongoing pandemic. However, we are all aware that matters can escalate quickly and plans can alter. If this is the case, then I will inform you as soon as possible.
It is important that pupils remember to test for symptoms at home on a regular basis and keep school informed of any positive cases.
The vaccinations ran smoothly and those pupils who participated were a credit to the school, with the NHS team praising their behaviour, good grace and maturity.
YEAR 7
Our new pupils have enjoyed a range of activities to help them acclimatise to St Mary's. Alongside the trips to Rock and River and our Friendship Day at St Mary's Church, we also enjoyed the visit to Blackpool Illuminations along with our Year 11 pupils who are excellent role models. It was also a delight to be able to welcome a good number of parents and extended family to our Year 7 Welcome Mass. We hope that Year 7 continue to settle and enjoy a happy and successful five years with us.
ARCHDIOCESE LEVY
You will note that I have written to you separately regarding contributions to the Liverpool Archdiocese building levy. Please take a moment to consider whether you can contribute to this important fund with a donation of £10 per family.
SPORTING SUCCESS
Congratulations to our Year 8 boy's football team, who were victorious in the final of the Chorley Hospital Cup. Scoring 2 goals in each half, the whole team gave a magnificent display and thoroughly deserved the 4-0 result against St Michael's.
At the time of writing, our joint football and netball trip to Villarreal in Spain is taking place. We look forward to welcoming them back and hearing about their exploits!
FREE SCHOOL MEALS
School have been informed at the very latest moment that funding has been allocated for the supply of Free School Meal vouchers for the October half-term. Eligible families should have received either an email with the voucher, or it will have been sent in the post, depending on individual circumstances.
YOUTH SUNDAY
On Sunday, 21 November the Church celebrates the feast of Christ the King. This is also dedicated as Youth Sunday. Once again, St Mary's pupils and their families are all invited to join us at the 10a.m. mass at St Mary's Parish church. Our Chaplain, Anthony, will soon write to all families with further details, but I will stress that everyone is welcome and it will be lovely to see us resume this tradition now that restrictions have been lifted.
JUMPERS & HAIRSTYLES
A reminder that jumpers again become a compulsory part of school uniform after half-term. This rule will remain in place until we break for the Easter holidays at the start of April and applies to all year groups.
In addition, please can you ensure that when your child returns after half-term that their hairstyle, including length, colour and markings, match the school's uniform expectations. Pupils can expect any breaches to be sanctioned in line with St Mary's policy.
CYCLING TO SCHOOL
Many pupils enjoy cycling to school, but now that the clocks are about to change and we enter the winter months, it would be a good idea for bikes to be fit with front and back lights. In addition, all pupils are aware that wearing a bike helmet is compulsory. Please can you re-inforce this message with your child, and encourage them to wear the helmet for the duration of their journey.
PLATINUM JUBILEE BANK HOLIDAY
As the Queen's Platinum Bank Holiday falls in the 2022 May half-term holiday, schools have been allowed to re-arrange a date to ensure that no-one misses out. In order to allow all pupils to benefit, and at a time which would not interfere with revision or exams for Year 11, we have opted to take our 'bank holiday' on Friday, 26 November. Therefore, school will be closed to all pupils and staff on this day.
Finally, I hope the forthcoming half-term holiday brings a well-deserved rest for all. We return on Monday, 1 November. Thank you for the support you have offered since September. It is, as ever, much appreciated.
Yours sincerely,
Mr P Thompson
Headteacher