Headteacher's News
16 December 2021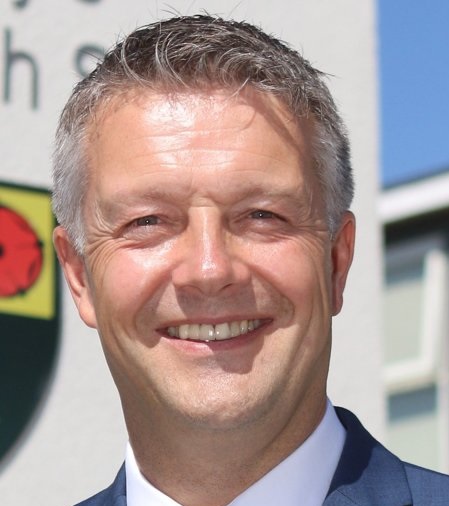 Dear Parents and Carers,
As the Christmas holidays approach, I would like to thank you all for the support you have shown this year. Thankfully, school life has returned to some form of normality, with events such as our Open Evening, Presentation Evening and Parent's Evenings all managing to go ahead. In addition, there have been a great variety of extra-curricular activities for pupils to once again get involved in, allowing your child to enjoy secondary school life to the full.
School Closure for Christmas
School closes for the Christmas holidays on Friday, 17 December at 12:30pm.
Thankfully, we are able to gather once again in St Mary's parish church for our traditional Advent service. All pupils and staff will walk from school to church from about 10:30am. Upon arrival, we will follow the Covid-restrictions which are currently in place for churches, and be asking that all those who attend sanitise their hands-on entry and wear a face mask, unless exempt. All pupils will be dismissed from church at 12:30pm, and the regular school buses have also been arranged to collect children from church at this time.
Re-opening in the New Year
I have written to you separately regarding our plans for the return in January 2022. However, I will stress that apart from our slightly staggered start to the new term, we are not planning on any other changes, unless dictated to by the government. Of course, should any announcements be made over the Christmas holidays, we will update parents and carers as soon as possible.
Traffic on Royal Avenue
As you will be aware, our school has grown considerably in pupil numbers over the last 3-4 years. We have approximately 200 more boys and girls onsite than in 2018. Whilst this is in every way a blessing for the school, one unintended consequence has been a rise in parental traffic on Royal Avenue.
Royal Avenue is not a particularly wide road, and we share the space with our local residents. We have recently seen episodes of gridlock, with cars being unable to pass one another. Of course, this is when many pupils are also making their own way to or from school on bicycles or on foot. Sadly, there have been isolated incidents of verbal abuse to other car users, which is never acceptable.
Please can I ask that car users are considerate of the situation both in the morning and, especially, in the afternoon. Please be patient with one another, and consider carefully whether you can avoid using Royal Avenue to drop-off/pick-up, by parking a short distance further away from the entrance.
Year 11 Mock Exams
Well done to our Year 11 pupils who have completed their mock exams recently. They should be praised for the excellent attitude they showed, and the invigilators have made it clear that this group have surpassed the already very high standard of behaviour set by previous year groups. We hope that this attitude is reflected in the grades they receive!
Farewell to Staff
The end of this term sees us say goodbye to five members of staff who have collectively worked 35 years at St Mary's. Miss Birch our morning receptionist, Mrs Lucas our Science Technician and Mr Bullman, Curriculum Leader for Science, all depart for opportunities elsewhere, whilst our morning cleaner Mrs Kay and Teaching Assistant Mrs Danson, have both arrived at retirement. Recruitment to all these positions is underway, but we wish all our departing colleagues the very best for the future and thank them for their dedication and service to the pupils they have worked with over the years.
School Communication
A reminder for all parents and carers that school sends information out in a variety of different ways. As well as our website and social media outlets, we also use the Schudio App. If you too would like to use the app, then search for 'Schudio School App' on your preferred app store. We can be found in the search bar as 'St Mary's Catholic High School'.
Christmas Newsletter
Please take time to view the linked newsletter which details many of the fabulous activities and achievements of our pupils since we returned in September. This gives you a wonderful insight into the many reasons why we are so proud of our pupils and the numerous ways they let their light shine.
https://lsmchs.com/parents/newsletters
As we come to the end of another busy term, I would like to wish you all a very merry and peaceful Christmas and a healthy and happy New Year!
Yours Sincerely,
Mr P Thompson
Headteacher